Resources (TPAS)
What is the I-10 TPAS?
The I-10 Corridor Coalition, a partnership of state departments of transportation from California, Arizona, New Mexico, and Texas, is deploying a Truck Parking Availability System (TPAS) along the 1-10 Corridor in these states. TPAS will provide real-time truck parking information to assist truck drivers and dispatchers in making informed parking decisions and improve safety, mobility, operations, and air quality along the corridor. 
What is the I-10 Corridor Coalition?
The I-10 Corridor Coalition is a voluntary coalition of the departments of transportation for California, Arizona, New Mexico, and Texas. The Coalition is committed to multi-jurisdictional coordination to promote safer and more efficient travel for both people and freight along the I-10 corridor by sharing expertise and resources, joint testing technology, and implementing innovative transportation improvements and best practices. The I-10 TPAS project is one of the Coalition's first major initiatives to help achieve this goal.
Where will the I-10 TPAS be deployed?
The TPAS will be deployed at 37 public rest areas along the I-10 corridor in California, Arizona, New Mexico, and Texas.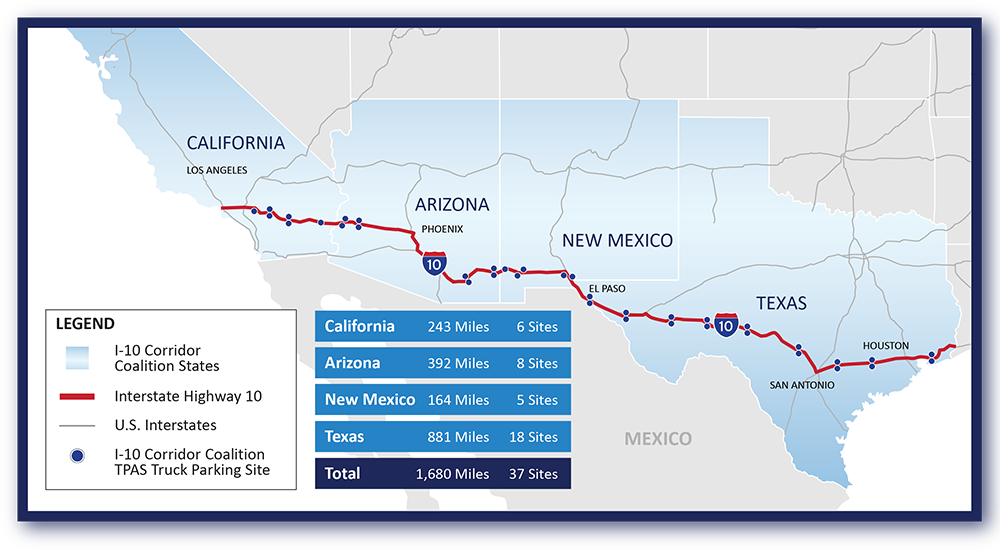 How will the system work?
Truck parking detection equipment will be deployed at each of the 37 public rest areas to monitor truck parking availability. The technology will be installed at the rest area entrance and exit driveways to count trucks entering or exiting or may be installed within individual truck parking stalls to detect the presence of trucks within each space. The system collects the truck parking availability data and disseminates it to dynamic truck parking availability signs (DPAS) and state traveler information websites. A data feed is also provided by each state, making the data available to 3rd party website and mobile phone application developers as well as in-cab information system developers.
TPAS Fact Sheet on the I-10 Truck Parking Availability System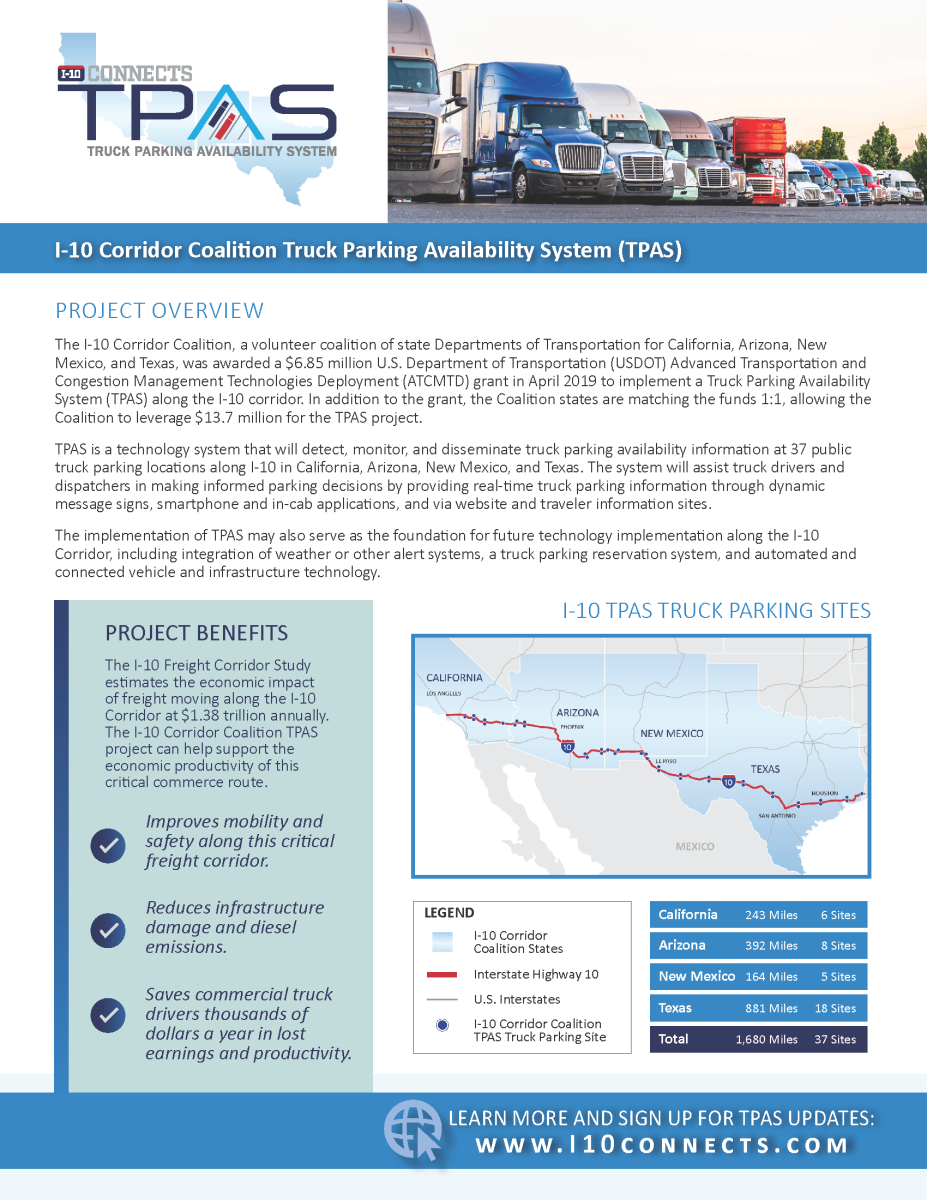 Discover the benefits of I-10 TPAS, how the system works, and how it will be implemented in our latest fact sheet.
The TPAS Truck Driver and Dispatcher Baseline Survey reveals important information concerning the needs of commercial vehicle drivers and dispatchers. The results help the Coalition better understand the challenges and issues drivers experience when attempting to park along the I-10 corridor.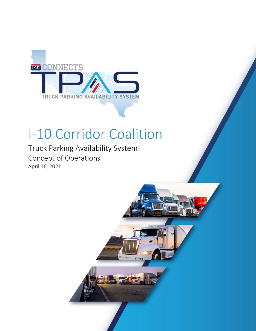 The Concept of Operations (ConOps) outlines user needs, identifies the architecture, and defines how TPAS will be implemented on I-10 in the four-state area. 
Traveler Information
| | | | |
| --- | --- | --- | --- |
| | | | |
| | | | |