Overview of TPAS
Truck Parking Availability System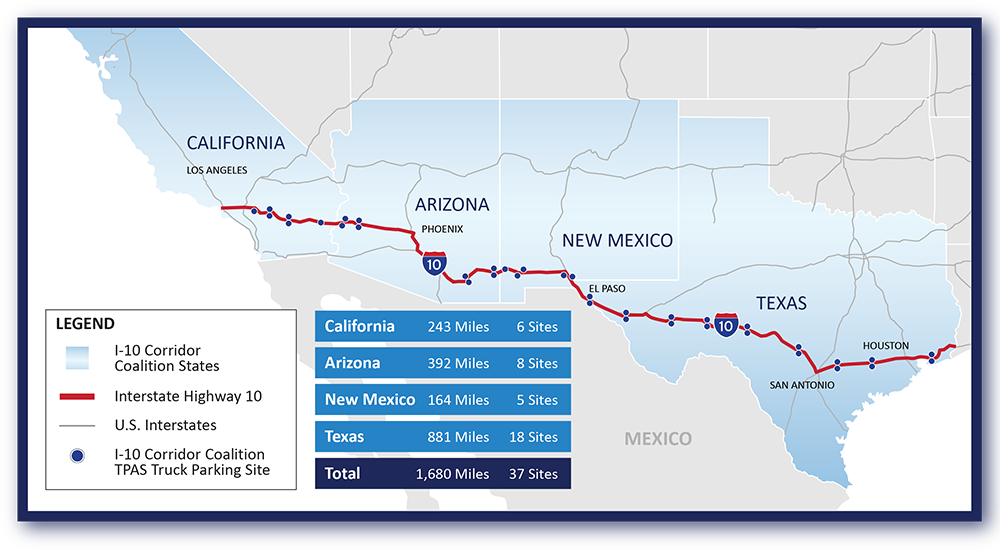 The I-10 Truck Parking Availability System (TPAS) is a technology system that will detect, monitor, and provide real-time truck parking availability information to truck drivers, dispatchers, and other interested stakeholders. Once implemented, the system will monitor and report on the availability of approximately 550 truck parking spaces at 37 public rest areas in California, Arizona, New Mexico, and Texas.
Using roadside dynamic message signs, smartphone and in-cab applications, websites, and other traveler information sites, truck drivers and dispatchers can make informed parking decisions that will help improve safety, efficiency, and mobility, and reduce emissions along the I-10 corridor.
The TPAS project began in 2020. The system is expected to "go live" in 2024 and will include ongoing operations and maintenance.
The total cost for the I-10 TPAS is approximately $13.7 million. Funding comes from a U.S. Department of Transportation (USDOT) $6.85 million Advanced Transportation and Congestion Management Technologies Deployment (ATCMTD) grant, with Coalition states matching the funds 1:1.
Project Benefits
The I-10 Freight Corridor Study estimates the economic impact of freight moving along the I-10 Corridor at $1.38 trillion annually. The I-10 Corridor Coalition TPAS project can help support the economic productivity of this critical commerce route by:
Improving mobility and safety along this critical freight corridor
Reducing infrastructure damage and diesel emissions
Saving commercial truck drivers thousands of dollars each year in lost earnings and productivity
Implementing TPAS may also serve as the foundation for future technology implementation along the Corridor, including integration of weather or other alert systems, a truck parking reservation system, and automated and connected vehicle and infrastructure technology.
TPAS Truck Driver and Dispatcher Survey
In Fall 2020, the Coalition surveyed truck drivers and dispatchers to understand driver needs and preferences for the development of TPAS. This input provided valuable information for the development of the I-10 TPAS Concept of Operations (ConOps) and identified how to best meet the
needs of users. A summary of the results from the I-10 TPAS Truck Driver and Dispatcher Baseline survey is available here.
TPAS Technology at a Glance

Information Dissemination
Dynamic Parking Availability Signs (DPAS) will be placed upstream from the parking areas. These signs will provide drivers with real-time advanced warning ahead of the parking site to allow drivers to consider alternate plans if a location is full.
Smartphone and web-based services may also be used to provide data to drivers and dispatchers. The Coalition will work with developers to integrate the feed into existing applications.
Concept of Operations
The I-10 Corridor Coalition's draft I-10 TPAS Concept of Operations (ConOps) document provides a high-level understanding of a truck parking availability system that collects and disseminates real-time truck parking availability information. The draft ConOps guides the design of the system and outlines the operations and maintenance requirements for TPAS along the Corridor..